The Nightingale by Kristin Hannah
Rating: 5 stars
Goodreads Rating: 4.54 stars
Source: Library
Buy the Book: Amazon
Summary: "

Despite their differences, sisters Vianne and Isabelle have always been close. Younger, bolder Isabelle lives in Paris while Vianne is content with life in the French countryside with her husband Antoine and their daughter. But when the Second World War strikes, Antoine is sent off to fight and Vianne finds herself isolated so Isabelle is sent by their father to help her.
As the war progresses, the sisters' relationship and strength are tested. With life changing in unbelievably horrific ways, Vianne and Isabelle will find themselves facing frightening situations and responding in ways they never thought possible as bravery and resistance take different forms in each of their actions."
Review: Wow. This book was perfect. Absolutely perfect. Brilliant, gripping, complex, honest, and so, so moving. I've read a lot of WWII fiction, but I've never read it from this angle: from the point of view of French female civilians. The two sisters, Vianne and Isabelle, reminded me a bit of Eleanor and Marianne Dashwood. They are very different, but they're written about so well that I felt like I could see their souls - their beauty, their bravery, and their blind spots - and I related to each of them for different reasons.
It's hard to sum up what moved me the most about this story. But one scene stands out: after one of the sisters is manipulated and blackmailed into betraying a friend, she goes to a nearby abbey to confess her horrible guilt. The Abbess is kind, but doesn't discount the damage of what she's done. She does, however, make her ask herself the question: "what are you going to do next time?"
So begins this sister's resistance against the Nazis. It was so moving to me to think that some of our greatest contributions to the world might in fact be born from our mistakes. This book isn't just about atonement though. It's about bravery in all its forms, forgiveness, sisterhood, friendship, love, loss, and survival.
I loved it. It could very well turn out to be my favorite read of the year.
Review in a GIF: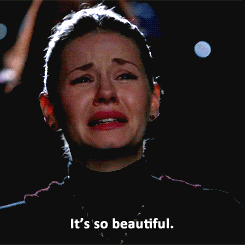 Bottom Line: Don't just read this book - buy it so that you can read it three dozen times.