Bad Feminist by Roxane Gay
Rating: 4.5 stars
Goodreads Rating: 3.9 stars
Source: Purchased
Buy the Book: Amazon
Summary:
Pink is my favorite color. I used to say my favorite color was black to be cool, but it is pink—all shades of pink. If I have an accessory, it is probably pink. I read Vogue, and I'm not doing it ironically, though it might seem that way. I once live-tweeted the September issue.
In these funny and insightful essays, Roxane Gay takes us through the journey of her evolution as a woman of color while also taking readers on a ride through culture of the last few years and commenting on the state of feminism today. The portrait that emerges is not only one of an incredibly insightful woman continually growing to understand herself and our society, but also one of our culture.
Bad Feminist
is a sharp, funny, and spot-on look at the ways in which the culture we consume becomes who we are, and an inspiring call-to-arms of all the ways we still need to do better.
Review: Ms. Gay is one of those extremely relatable writers who you are pretty sure would be your BFF if you met in real life. (Think: Elizabeth Gilbert, Liane Moriarty, etc.) She is honest and funny and blunt. These essays ranged from the adorable (scrabble) to the passionate (health care) to the raw (sexual assault), but regardless of the topic, I was never bored. Regardless of her stance, I was never frustrated - even if I disagreed with her.
I think this has a lot to do with Ms. Gay's superb and nonjudgemental writing style. She is very clear that these essays are only one woman's experience and viewpoints. (Read: not a feminism manifesto.) Feminism and its related issues are messy and complicated and obviously controversial, but it's something we all have to grapple with. This is simply a chronicle of Ms. Gay's feminist grappling.
Where this book succeeds the most is that it asks hard questions and forces the reader to come up with their own answers. Ms. Gay sometimes supplies her own conclusions, but it's clear that she does not expect her readers to have the same perspectives. Her tolerant openness allows us to examine our own ideas and blind spots without becoming defensive, and judge whether our conclusions should be reexamined.
I thoroughly enjoyed reading this, and would definitely recommend it to anyone interested in feminism, or interested in having a good laugh.
Review in a GIF: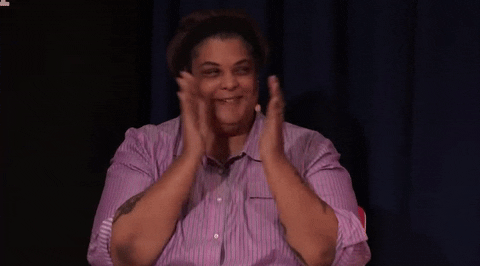 Bottom Line: A short, funny, and thought provoking book of essays on (bad) feminism by an author I will be on the watch for.