Truly Madly Guilty by Liane Moriarty
Rating: 3 stars
Goodreads Rating: 3.57 stars
Source: Library
Buy the Book: Amazon
Summary: "
Six responsible adults. Three cute kids. One small dog. It's just a normal weekend. What could possibly go wrong?
Sam and Clementine have a wonderful, albeit, busy life: they have two little girls, Sam has just started a new dream job, and Clementine, a cellist, is busy preparing for the audition of a lifetime. If there's anything they can count on, it's each other.
Clementine and Erika are each other's oldest friends. A single look between them can convey an entire conversation. But theirs is a complicated relationship, so when Erika mentions a last minute invitation to a barbecue with her neighbors, Tiffany and Vid, Clementine and Sam don't hesitate. Having Tiffany and Vid's larger than life personalities there will be a welcome respite.
Two months later, it won't stop raining, and Clementine and Sam can't stop asking themselves the question: What if we hadn't gone?
In Truly Madly Guilty, Liane Moriarty takes on the foundations of our lives: marriage, sex, parenthood, and friendship. She shows how guilt can expose the fault lines in the most seemingly strong relationships, how what we don't say can be more powerful than what we do, and how sometimes it is the most innocent of moments that can do the greatest harm."
Review: You guys, I WAS BORED WHILE READING A MORIARTY BOOK. This has never happened to me before. Perhaps my expectations were too high, but this one just didn't reach that level of amazing that I've come to expect from her. It just wasn't as funny or as charming or as tightly spun as I know Moriarty is capable of.
The mystery wasn't that difficult to figure out either. And the whole first half of the novel really dragged. I was bored!! Did I mention that I was bored? Because I was. Bored. At no point did I feel that compulsion to keep reading. I cared more for Clementine's audition than for any of the relationships between characters, and that's usually what pulls me in: the relationships. I thought all the relationships were toxic. Instead of being fascinated at how we all have such goodness and such blind spots and somehow make each other better despite all the crap we all deal with... instead I just wanted everyone in this story to call it a day and go their separate ways. Including myself.
So I spent a lot of the novel being turned off and let down. But still... Moriarty's worst is still a whole lot better than most other people's best.
Review in a GIF: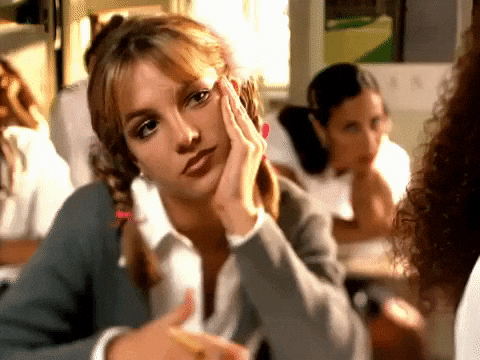 Bottom Line: Maybe my least favorite Moriarty. But it's Moriarty, so I forgive her.