The Bollywood Bride by Sonali Dev
Rating: 3 stars
Goodreads Rating: 3.54 Stars
Source: Purchased
Buy the Book: Amazon
Summary: "
Ria Parkar is Bollywood's favorite Ice Princess--beautiful, poised, and scandal-proof--until one impulsive act threatens to expose her destructive past. Traveling home to Chicago for her cousin's wedding offers a chance to diffuse the coming media storm and find solace in family, food, and outsized celebrations that are like one of her vibrant movies come to life. But it also means confronting Vikram Jathar.
Ria and Vikram spent childhood summers together, a world away from Ria's exclusive boarding school in Mumbai. Their friendship grew seamlessly into love--until Ria made a shattering decision. As far as Vikram is concerned, Ria sold her soul for stardom and it's taken him years to rebuild his life. But beneath his pent-up anger, their bond remains unchanged. And now, among those who know her best, Ria may find the courage to face the secrets she's been guarding for everyone else's benefit--and a chance to stop acting and start living.
Rich with details of modern Indian-American life, here is a warm, sexy, and witty story of love, family, and the difficult choices that arise in the name of both."
Review:
This book made me crave Indian food so badly. I loved everything Indian about this story: the colors, the clothes, the traditions, the family dynamics, and the FOOD. Oh my gosh, the food. I like Indian food anyway, but WOW this book gave me some serious cravings.
The characters themselves were fine, though they didn't really stand out to me. Ria was frustratingly uncommunicative, but she had her reasons. It is clear from the beginning that Ria and Vikram have a lot of baggage to overcome, and most of the book is about their journey finding themselves and finding out whether or not they really belong together. I appreciated that their story wasn't rushed, but never felt bogged down. The pacing was just right. I appreciate a good romance, so long as it isn't cheesy. This, being Bollywood, certainly has its cheesy moments. And the characters, while distinct and unique, weren't exactly lovable. However, it was a fun, quick read, and I hoped Ria and Vikram had a happy ending. You'll have to read it yourself to find out whether they do. :)
In conclusion, the story was just okay, but the Indian elements made up for it.
Review in a GIF: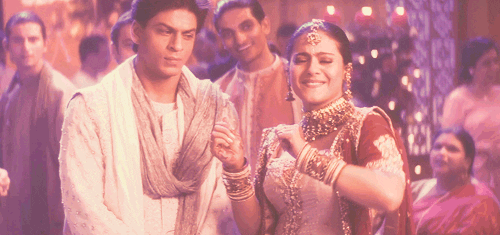 I am one of the above people, depending on what element of the book you're talking about.
Bottom Line: If you're in the mood for romance then read it on a beach somewhere. Then go eat massive quantities of Indian food.