Deviants of Giftborn (Etherya #1) by Zuri Amarcya
Rating: 3.75 stars
Source: Copy provided by the author
Buy the Book: Amazon
Summary: "
Better deviant than dead.
Raised among hostile, violent beggars, Nemma longs for the safety of her family and a better quality of life. She uses trickery and brute force to survive, but living among the desperate has its risks. When she inadvertently kills two powerful magiens, with a power she didn't realize she had, she is forced to flee and seek help. This sets in motion a chase that will have a fatal end for her if she is unable to escape the all-powerful Sovereign Order.
Ambitious merchant, Clisantha, manipulates others to work her way up the social hierarchy in Torak City. She uses her illegal powers to preserve her status, scrutinize her devious Lord stepfather and meddle with a mysterious magien. However, when hidden memories of her long-deceased father resurface, she becomes absorbed in the mystery surrounding his death, forcing her to put herself, her beliefs and everything she has strived for at risk.
Nemma and Clisantha's lives collide and revolve as they fall deeper into the secrets of their past, revealing a truth far more devastating than they could ever have imagined.
Deviants of Giftborn is the first installment of The Etherya Series, a thrilling epic fantasy saga exploring the cost of consequence, justice and power. If you like compelling action, determined heroines, and magical societies, Zuri Amarcya's adventurous and enchanting tale is perfect for you."
Review: First off, I want to thank the author for forwarding a copy of her novel to me. Thank you! I also want to reassure my readers that this has had no impact on my review. On to the review!
The first thing that stood out to me is the world building. This is a very imaginative world, complete with a competitive economy, class struggles, corruption, and misogyny, and with an original and interesting magic system. It reminded me a little bit of Sanderson's Mistborn series, actually, and I think fans of that series would do well to look into this series as well.
Though I have to be honest, I can tell that this world was better defined in the author's mind than in mine. I got the gist, but wished it was less fuzzy overall. And the misogynistic elements were frustrating.
About the characters, I noticed that the female characters covered a wide range in personality, morality, looks, habits, strengths, and weaknesses. Brava!
I didn't know how to pronounce a lot of the names, but I appreciated the range in characterization.
There are themes of friendship and choice and power, but they
aren't explored too widely. Maybe in the next book. I don't really take issue with this though. It bothers me a lot more when books have an Agenda. This book was just trying to tell a story. Much more enjoyable than an Agenda Book.
Ms. Amarcya does a great job with her action scenes. There were real moments of adventure and excitement.
The chapters between the action scenes were quite slow, alas.
This book tells this story through rotating perspectives from two very different people, and I never was confused as to which protagonist's head I was in. (Yay!)
The two stories don't connect or build on each other very well, however. I often felt like I was reading two different books.
And while we're talking about the two protagonists' stories, I have another grievance. The blurb mentions that the two protagonists lives "collide
and revolve as they fall deeper into the secrets of their past," which is true, but I think is a little bit misleading. I was expecting them two to connect much sooner than they did. Truly, the amount of time Nemma and Clisantha spend in each others' presence is extremely small. Perhaps it was a case of mismatched expectations, but from the blurb I thought they two would become a dynamic duo to overthrow the injustices around them. In reality, their two lives rarely touched. I liked both characters and enjoyed reading both stories, but I didn't think their respective stories flowed together the way they should have.
All in all, it's a fun new fantasy story, if not completely polished. I'd give it a go if you like fantasy and are looking for a new series to entertain you.
It ends on a cliffhanger, though, so don't expect much closure!
Review in a GIF: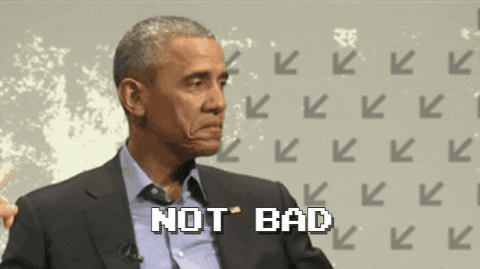 Bottom Line: An entertaining new fantasy series, though it's got a few issues. Still fun.