The Queen of the Tearling by Erika Johansen
Rating: 4 stars
Source: Purchased
Buy the Book: Amazon
Summary: "
An untested young princess must claim her throne, learn to become a queen, and combat a malevolent sorceress in an epic battle between light and darkness in this spectacular debut—the first novel in a trilogy.
Young Kelsea Raleigh was raised in hiding after the death of her mother, Queen Elyssa, far from the intrigues of the royal Keep and in the care of two devoted servants who pledged their lives to protect her. Growing up in a cottage deep in the woods, Kelsea knows little of her kingdom's haunted past . . . or that its fate will soon rest in her hands.
Long ago, Kelsea's forefathers sailed away from a decaying world to establish a new land free of modern technology. Three hundred years later, this feudal society has divided into three fearful nations who pay duties to a fourth: the powerful Mortmesne, ruled by the cunning Red Queen. Now, on Kelsea's nineteenth birthday, the tattered remnants of the Queen's Guard—loyal soldiers who protect the throne—have appeared to escort the princess on a perilous journey to the capital to ascend to her rightful place as the new Queen of the Tearling.
Though born of royal blood and in possession of the Tear sapphire, a jewel of immense power and magic, Kelsea has never felt more uncertain of her ability to rule. But the shocking evil she discovers in the heart of her realm will precipitate an act of immense daring, throwing the entire kingdom into turmoil—and unleashing the Red Queen's vengeance. A cabal of enemies with an array of deadly weapons, from crimson-caped assassins to the darkest blood magic, plots to destroy her. But Kelsea is growing in strength and stealth, her steely resolve earning her loyal allies, including the Queen's Guard, led by the enigmatic Lazarus, and the intriguing outlaw known simply as "the Fetch."
Kelsea's quest to save her kingdom and meet her destiny has only just begun. Riddled with mysteries, betrayals, and treacherous battles, Kelsea's journey is a trial by fire that will either forge a legend . . . or destroy her."
Mini-review: This book is a

slower political fantasy peppered with some pretty spectacular moments of excitement. There's a lot to like in this fantasy novel, largely including Kelsea herself, but it's a bit

strong

. Definitely for adult readers. I plan on reading the sequel, and soon before I forget anyone. (This book's cast list is loooooooong.)
Review in a GIF: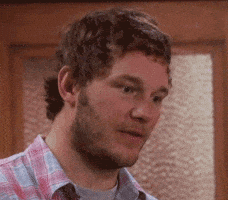 The Invasion of the Tearling by Erika Johansen
Rating: 3.25 stars
Source: Purchased
Buy the Book: Amazon
Summary: "
With each passing day, Kelsea Glynn is growing into her new responsibilities as Queen of the Tearling. By stopping the shipments of slaves to the neighboring kingdom of Mortmesne, she crossed the Red Queen, a brutal ruler whose power derives from dark magic, who is sending her fearsome army into the Tearling to take what is hers. And nothing can stop the invasion.
But as the Mort army draws ever closer, Kelsea develops a mysterious connection to a time before the Crossing, and she finds herself relying on a strange and possibly dangerous ally: a woman named Lily, fighting for her life in a world where being female can feel like a crime. The fate of the Tearling —and that of Kelsea's own soul—may rest with Lily and her story, but Kelsea may not have enough time to find out."
Mini-review:
I honestly can't figure out if this is a fantasy or a dystopia. I give this series major props for originality, but wish it spent more time answering my questions than giving me new ones. I felt like my focus was constantly being ripped from one plot thread to the next, and rather than build together towards a sweeping climax, the various plot threads just piled on top of each other in a hot mess. There was so much going on, and I was invested in each plot thread, but they never connected in the end. I so badly wanted all those plot threads to be woven together so that I could stare at a giant tapestry, but came away feeling more like I was staring at a pile of spaghetti noodles. There's another book to come, so hopefully it comes together in the end. But as the series stands right now, we have a long way to go from spaghetti noodles to tapestry. I'm hopeful that we get there, though, because I'm rooting for Kelsea and her struggling Tearling.
Review in a GIF: