The Last Anniversary by Liane Moriarty
Rating: 4.5 stars
Source: Library
Buy the Book: Amazon
Summary: "
Sophie Honeywell always wondered if Thomas Gordon was the one she let get away. He was the perfect boyfriend, but on the day he was to propose, she broke his heart. A year later he married his travel agent, while Sophie has been mortifyingly single ever since. Now Thomas is back in her life because Sophie has unexpectedly inherited his aunt Connie's house on Scribbly Gum Island -- home of the famously unsolved Munro Baby mystery.
Sophie moves onto the island and begins a new life as part of an unconventional family where it seems everyone has a secret. Grace, a beautiful young mother, is feverishly planning a shocking escape from her perfect life. Margie, a frumpy housewife, has made a pact with a stranger, while dreamy Aunt Rose wonders if maybe it's about time she started making her own decisions.
As Sophie's life becomes increasingly complicated, she discovers that sometimes you have to stop waiting around -- and come up with your own fairy-tale ending.
As she so adroitly did in her smashing debut novel, Three Wishes, the incomparable Liane Moriarty once again combines sharp wit, lovable and eccentric characters, and a page-turning story for an unforgettable Last Anniversary."
Mini-review:
Charming, fun, witty, a little gritty, and everything else Moriarty is known for. This one probably isn't as loved as some of her other books, but it certainly holds a special place in my heart. It had me sobbing for personal reasons, though I'd be surprised if that was a widespread reaction to this book. I think most of the world would give it between 3 and 4 stars, but because it hit such a sensitive nerve at the precise moment I needed it to, it merits a higher rating from me, personally. (I can't get into why without being spoilery, but if you've read this book and want to chat, hit me up!)
Review in a GIF: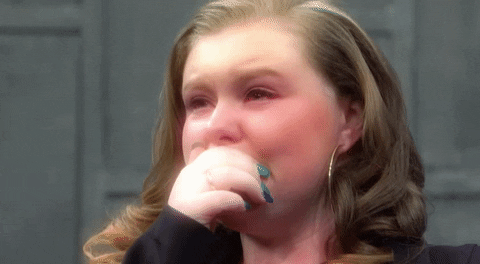 Illuminae by Amie Kaufman and Jay Kristoff
Rating: 4 stars
Source: Library
Buy the Book: Amazon
Summary: "
This morning, Kady thought breaking up with Ezra was the hardest thing she'd have to do.
This afternoon, her planet was invaded.
The year is 2575, and two rival megacorporations are at war over a planet that's little more than an ice-covered speck at the edge of the universe. Too bad nobody thought to warn the people living on it. With enemy fire raining down on them, Kady and Ezra—who are barely even talking to each other—are forced to fight their way onto an evacuating fleet, with an enemy warship in hot pursuit.
But their problems are just getting started. A deadly plague has broken out and is mutating, with terrifying results; the fleet's AI, which should be protecting them, may actually be their enemy; and nobody in charge will say what's really going on. As Kady hacks into a tangled web of data to find the truth, it's clear only one person can help her bring it all to light: the ex-boyfriend she
swore
she'd never speak to again.
Told through a fascinating dossier of hacked documents—including emails, schematics, military files, IMs, medical reports, interviews, and more—
Illuminae
is the first book in a heart-stopping, high-octane trilogy about lives interrupted, the price of truth, and the courage of everyday heroes."
Mini-review:
Phew! That was a pretty insane and wild ride. It took me a week or two to get through the first 15%... and took me less than a day to inhale the rest. Exhilarating and surprising with high stakes action and a great conclusion (set up for book 2 is in place, but this book actually has its own conclusion) this was a pretty thrilling read. Also, it was a really original format, what with everything being presented as a collection of hacked documents. I knocked off a star because some of the dialogue between characters was annoyingly crass, and I nearly stopped reading because of it. Also, the violence level here is pretty intense. I didn't lower my rating for that, but feel like I should give fair warning to the squeamish. (Side-note: I do not mean to be condescending by calling anyone squeamish. I am definitely squeamish when it comes to film, so I feel your pain. But for whatever reason it doesn't really affect me in print, so, you know, bring on the bookish zombie invasions. I just wanted to warn those of you for whom a lot of violence is a deal breaker.)
Review in a GIF: