Six of Crows by Leigh Bardugo
Rating: 4 stars
Source: Library
Buy the Book: Amazon
Summary: "
Ketterdam: a bustling hub of international trade where anything can be had for the right price—and no one knows that better than criminal prodigy Kaz Brekker. Kaz is offered a chance at a deadly heist that could make him rich beyond his wildest dreams. But he can't pull it off alone...
A convict with a thirst for revenge.

A sharpshooter who can't walk away from a wager.

A runaway with a privileged past.

A spy known as the Wraith.

A Heartrender using her magic to survive the slums.

A thief with a gift for unlikely escapes.
Kaz's crew are the only ones who might stand between the world and destruction—if they don't kill each other first."
Mini-review:
Nearly everything in this character driven story feels like a set up for the future books, which would be really annoying if I didn't like reading about these characters. Luckily I did, so the frequent flashbacks and build ups weren't insufferable. But still, I felt like this book was strangely boring for a heist story. The action took second place to the character bios, but what action there was was fantastic. You almost feel like Kaz and crew are fooling the readers along with everyone else, and I liked that Ocean Eleven-esque quality. So long as you can connect to these characters, you'll enjoy the book. If not, I'm afraid you won't. Happily, I did.
Review in a GIF: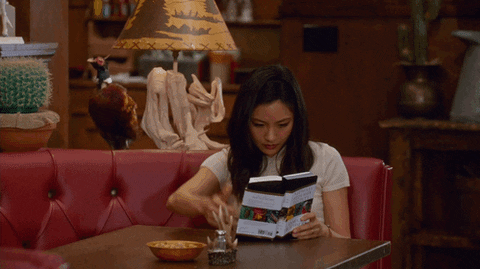 <br>
On Becoming Babywise by Gary Ezzo
Rating: 3 stars
Source: Library
Buy the Book: Amazon
Summary: "
The infant management concepts presented in this book have found favor with over two million parents and twice as many contented babies. On Becoming Babywise brings hope to the tired and bewildered parents looking for an alternative to sleepless nights and fussy babies. The Babywise Parent Directed Feeding concept has enough structure to bring security and order to your baby's world, yet enough flexibility to give mom freedom to respond to any need at any time. It teaches parents how to lovingly guide their baby's day rather than be guided or enslaved to the infant's unknown needs.
"
Mini-review: I read this because my son was very colicky for the first four months of his life, and I was utterly exhausted.
It didn't answer several of my questions, but I like the feed-wake-sleep idea. As with all parenting books, take what you like, leave what you don't.
Review in a GIF: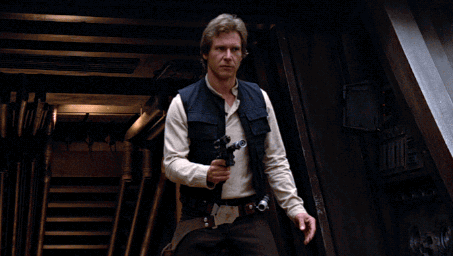 <br>
Unspoken by Sarah Rees Brennan
Rating: 3.25 stars
Source: Library
Buy the Book: Amazon
Summary: "
Kami Glass loves someone she's never met . . . a boy she's talked to in her head ever since she was born. She wasn't silent about her imaginary friend during her childhood, and is thus a bit of an outsider in her sleepy English town of Sorry-in-the-Vale. Still, Kami hasn't suffered too much from not fitting in. She has a best friend, runs the school newspaper, and is only occasionally caught talking to herself. Her life is in order, just the way she likes it, despite the voice in her head.
But all that changes when the Lynburns return.
The Lynburn family has owned the spectacular and sinister manor that overlooks Sorry-in-the-Vale for centuries. The mysterious twin sisters who abandoned their ancestral home a generation ago are back, along with their teenage sons, Jared and Ash, one of whom is eerily familiar to Kami. Kami is not one to shy away from the unknown—in fact, she's determined to find answers for all the questions Sorry-in-the-Vale is suddenly posing. Who is responsible for the bloody deeds in the depths of the woods? What is her own mother hiding? And now that her imaginary friend has become a real boy, does she still love him? Does she hate him? Can she trust him?"
Mini-review: Meh. It sometimes succeeded at that gothic slow-chill mystery thing, but most of the time I just wasn't really feeling it. I have nothing against this story, it just wasn't my thing.
Review in a GIF: