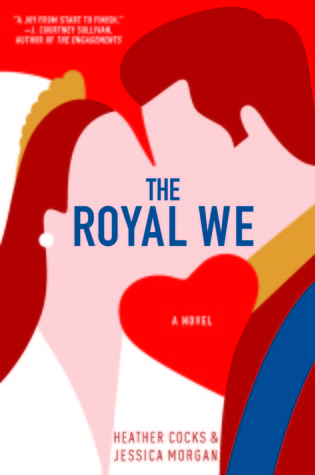 The Royal We by Heather Cocks and Jessica Morgan
Rating: 4.5 stars
Source: Purchased eBook
Buy the Book: Amazon
Summary: "
American Rebecca Porter was never one for fairy tales. Her twin sister, Lacey, has always been the romantic who fantasized about glamour and royalty, fame and fortune. Yet it's Bex who seeks adventure at Oxford and finds herself living down the hall from Prince Nicholas, Great Britain's future king. And when Bex can't resist falling for Nick, the person behind the prince, it propels her into a world she did not expect to inhabit, under a spotlight she is not prepared to face.
Dating Nick immerses Bex in ritzy society, dazzling ski trips, and dinners at Kensington Palace with him and his charming, troublesome brother, Freddie. But the relationship also comes with unimaginable baggage: hysterical tabloids, Nick's sparkling and far more suitable ex-girlfriends, and a royal family whose private life is much thornier and more tragic than anyone on the outside knows. The pressures are almost too much to bear, as Bex struggles to reconcile the man she loves with the monarch he's fated to become.
Which is how she gets into trouble.
Now, on the eve of the wedding of the century, Bex is faced with whether everything she's sacrificed for love-her career, her home, her family, maybe even herself-will have been for nothing."
Review: It's pretty obvious from the cover image alone that this book is Prince William and Kate Middleton fan fiction. Kate Bex is your commoner protagonist, William Nick is the future king of England, and this is their love story. Bex and Nick's love story, though loosely based on Kate and William, is extremely fictional. It's also wildly scandalous, heartfelt, and hilarious.
I've said before that I'm picky about my romances. But I loved this book. The entire story is riddled with wit and charm, and I loved the humor as much as the romance. Bex and Nick feel like real people. Their relationship has all the layers found in real relationships: the goofy twinkie-eating side; the sweet Thanksgiving-in-England side; the passionate watching-from-across-the-room side; the supportive listening-ear side; and so on. There are the meet-the-family moments and other milestones that other relationships encounter, but what makes this particular relationship unique is that Nick is one of the world's biggest celebrities. And so Bex and Nick must not only navigate the mismatched expectations and fights and miscommunication that every couple deal with, but they must also figure out how to balance their private relationship with their public one. That means figuring out how to deal with the press, how to differentiate between people who are your friends and people who just want to use you for your status, and how to be a public persona without losing your sense of self.
It's a lot to ask of someone, and watching Bex and Nick figure everything out, both together and separately, made me feel every emotion. Really, I was humored, saddened, angry, exasperated, content, and really, really happy at various points of the story. The authors are really great at writing emotion, and I rode the wave along with them.
Plus, it was really entertaining to get a glimpse of how the outside of any given relationship differentiates from the inside. And I'm not just talking about romantic relationships, although those are definitely included. Familial relationships, relationships with self and with friends, relationships with work and duty and every other kind of relationship can be bent to be perceived from any given angle. What you see in interviews, magazine articles, and so on, is not representative of reality. I found the disparities between the two really fascinating. While I don't know how the real William and Kate feel about this book, I would guess that they don't mind that lesson being taught.
And while I think that this lesson is true for celebrities, it's also true for us commoners. You never really know everything about someone else, and we should not be quick to judge anyone.
I also have to mention how much I loved a lot of the side characters. Freddie, Gaz, Bex's dad, and Bea were my favorites. Although Bex and Nick are 90% of this story, the side characters were really lovely, and were the perfect icing on top of the story.
In conclusion, I was thoroughly entertained. When I finished reading, I flipped back to the beginning to read my favorite parts, which ended up being basically the whole book. This is a fun and compelling read that will almost certainly put a smile on your face. I just wish it had one more chapter in the end to tie up some loose ends.
Content advisory: There is language and sex and a whole lot of alcohol. I don't find the drinking to be particularly offensive, but I was concerned for a few livers there.
Review in a GIF: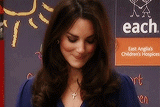 Bottom Line: Delightfully fun William and Kate Middleton fan fiction.