Design Mom: A Room-by-Room Guide to Living Well With Kids by Gabrielle Stanley Blair
Rating: 4.25 stars
Source: Purchased
Buy the Book: Amazon
Summary: "
Ever since Gabrielle Stanley Blair became a parent, she's believed in one idea strongly: Design doesn't disappear when kids appear. She has always felt that an intentionally designed environment is one of the greatest gifts you can give to your family. That the items and decor one chooses tell a story. That a home is truly a child's first and favorite picture book and the comfort she reaches for when she needs it most. In this, her first book, Blair offers a room-by-room manual for keeping things sane, organized, creative, and stylish. She provides advice on making a foyer more functional; which sofas work best for different kinds of families; how to organize family photos; throwing birthday parties; kitchen organization; cooking with children; keeping a home office; how to deal with a never-ending stream of toys; traveling with children; how to balance it all; and much, much more."
Review: This is a different kind of book than I usually review here on the BDrag, so this review will be correspondingly different. I can't comment on the plot or characters or development, since this book doesn't have much in terms of a story arc. I can, however, tell you what I wanted from this book, what I found in this book, and whether I'm glad I read it.
First, you should know that the author, Ms. Blair, is also the author of the successful blog Design Mom. If you read her blog, you probably know a little bit about her and her family and her ideas and style. If not, here's a quick run down: Ms. Blair and her husband have six children, all of whom are young enough to still be living with them. They have lived both in the US and in France. Her blog focuses on "the intersection of design and motherhood," and she makes it quite clear that she believes you can be a parent and still have a lovely home. I share that philosophy, and have appreciated her posts that highlight ways to engage in various aspects of design (clothing, jewelry, home decor, etc.) in deliberate and child friendly ways without breaking the bank.
Though I have enjoyed her blog very much since I started reading it, I actually haven't been a follower of hers for long. So when I received her book, I was hoping for some personal anecdotes and stories to go along with each section. Each section focuses on one area of the home (the entry, the kitchen, the living room, etc.) and offers tips and tricks to make the most out of each space for every kind of family. I enjoyed reading the ideas she offered (and really loved studying each photo) and it helped me to really think about how I am using the space in our home, and whether it could be used more deliberately and effectively.
But there weren't enough personal touches, I thought. It was a nice book, and I'm glad I read it. But Ms. Blair seemed absent from much of the book. I could have been reading a design magazine compiled by a whole team of talented people, and it would have read the same way. I kind of wanted Ms. Blair to feel more present, but maybe I'm just being picky.
Despite that one complaint, it was still a lovely book. I really did enjoy how it was organized and easy to read. The tips felt practical and realistic and doable. I felt like it accomplished its purpose, and made me feel like I am capable of having a comfortable and aesthetically pleasing home, not in spite of my children, but because of them. We're a family, after all, and living together is a wonderful thing. Even if it's sometimes messy.
Review in a GIF: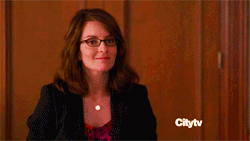 Bottom Line: This book is exactly what you'd expect from it's title: an organized book of tips to help parents of littles organize their homes in practical and deliberate and aesthetically pleasing ways.