Mental Floss has a list of fifteen post-Harry Poter revelations from Pottermore, and they're all worth reading, but for brevity's sake I just included my top five here. Are you on Pottermore? What do you think about it? I am (go Ravenclaw!) and I love the little extra tidbits of information Rowling has revealed there, but I am not one for potions or duels or anything like that. Still, I think it's a fun website, even if it isn't something I regularly spend a lot of time on. Anyway, here are my favorites from the Mental Floss list of revelations:
5. DRACO MALFOY WAS RAISED TO BELIEVE HARRY WAS A GREAT DARK WIZARD.
One of many theories that went around after Harry survived Voldemort's curse was that The Boy Who Lived was actually a great Dark wizard—and it was this theory that Lucius Malfoy, Draco's father, clung to. "It was comforting to think that he, Lucius, might be in for a second chance of world domination, should this Potter boy prove to be another, and greater, pure-blood champion," Rowling writes. Which is why Draco went out of his way to befriend Harry on the Hogwarts Express:
Harry's refusal of Draco's friendly overtures, and the fact that he had already formed allegiance to Ron Weasley, whose family is anathema to the Malfoys, turns Malfoy against him at once. Draco realised, correctly, that the wild hopes of the ex-Death Eaters – that Harry Potter was another, and better, Voldemort – are completely unfounded, and their mutual enmity is assured from that point.
Rowling also reveals that Draco could have had a very different last name; Smart, Spinks, or Spungen were all options.
4. LUCIUS MALFOY I WANTED TO MARRY A QUEEN.
It's not that surprising that a member of this ambitious and power-hungry would want to be royalty. "There is ample evidence to suggest that the first Lucius Malfoy was an unsuccessful aspirant to the hand of Elizabeth I, and some wizarding historians allege that the Queen's subsequent opposition to marriage was due to a jinx placed upon her by the thwarted Malfoy," Rowling writes. This, of course, happened long before the Malfoys changed their tune on Muggles, and later, the scandalous story was "hotly denied by subsequent generations."
3. SYBILL TRELAWNEY WAS MARRIED!
Unfortunately, it ended "in unforeseen rupture when she refused to adopt the surname 'Higginbottom.'" Also fun: One of her hobbies is "sherry."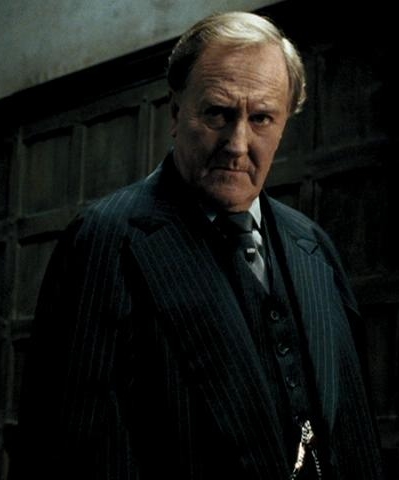 2. CORNELIUS FUDGE GAVE HIMSELF THE WIZARDING WORLD'S TOP HONOR.
The Order of Merlin First Class is awarded for "'acts of outstanding bravery or distinction' in magic." Dumbledore received the award—a gold medal on a green ribbon—for defeating the Dark Wizard Grindlewald, a decision everyone agreed with. But when Cornelius Fudge, Minister for Magic, awarded it to himself for "a career that many considered less than distinguished," there was "a good deal of muttering in the wizarding community."
1. THE FIRST MEETING BETWEEN THE POTTERS AND THE DURSLEYS WAS A DISASTER.
Petunia had long hated being overshadowed by her witch sister, and her fiance and future husband, Vernon Dursley, hated all things that weren't perfectly normal—so they were pretty much predisposed to hating all things magical. But it was the first meeting between the couple and Lily and James that really cemented that attitude:
James was amused by Vernon, and made the mistake of showing it. Vernon tried to patronize James, asking what car he drove. James described his racing broom. Vernon supposed out loud that wizards had to live on unemployment benefit. James explained about Gringotts, and the fortune his parents had saved there, in solid gold. Vernon could not tell whether he was being made fun of or not, and grew angry. The evening ended with Vernon and Petunia storming out of the restaurant, while Lily burst into tears and James (a little ashamed of himself) promised to make things up with Vernon at the earliest opportunity.
Of course, no amends were ever made. Petunia didn't ask Lily to be a bridesmaid in her wedding, and, Rowling writes, "Vernon refused to speak to James at the reception, but described him, within James' earshot, as 'some kind of amateur magician.'" The couple didn't attend James and Lily's wedding, and the last letter Petunia received from the magical pair—Harry's birth announcement—went in the trash.