Little Beach Street Bakery by Jenny Colgan
Rating: 4 stars
Source: Library
Buy the Book: Amazon
Summary: "
Polly Waterford is recovering from a toxic relationship. Unable to afford their flat, she has to move miles away from everyone, to a sleepy little seaside resort in Cornwall, where she lives alone above an abandoned shop. And so Polly takes out her frustrations on her favourite hobby: making bread.
But what was previously a weekend diversion suddenly becomes far more important as she pours her emotions into kneading and pounding the dough, and each loaf becomes better and better. With nuts and seeds, olives and chorizo, with local honey (courtesy of local bee keeper, Huckle), and with reserves of determination and creativity Polly never knew she had, she bakes and bakes and bakes.... And people start to hear about it. Sometimes, bread really is life...and Polly is about to reclaim hers."
Review: Goodness, rarely have I experienced such severe bread cravings while reading a book. If you come away from this review with anything, I hope it's that you absolutely must have fresh, artisan bread on hand while reading this book. Seriously. This is not a suggestion. You will not survive this book otherwise. (The author appears to be aware of this, as she includes several recipes in the back of the book. Smart woman.)
This book is warm and delicious. I was cozy and happy while reading, and spent the majority of my time in this book feeling quite content. Besides constantly wanting to eat bread, this book also made me desperately want to travel to forgotten English islands, just to experience the salty air and reflect on life next to old lighthouses. It was lovely to watch Polly come into herself and find contentment. She was a delightful protagonist, and I was heartily cheering for her. (I mean, she has a pet puffin. It is impossible not to root for someone who has a pet puffin, I tell you.)
The rest of the cast was equally delightful. I liked how each cast member felt unique, and contributed to the story in ways that felt organic and distinctive to their personalities. I liked how the atmosphere of the tiny island town came to life in these pages. Really, if Polbearne were a real place, this book would be its best tourism hook.
While there was a lot to like here, I didn't completely fall in love. I mean, I LIKED this book a lot, and I'm glad I read it. But it didn't shine quite as brightly as I wanted it to. I liked each of the characters individually, but I didn't feel the chemistry between Polly and anyone else. I didn't think the romance was really all that significant to the story, anyway. I felt like the overarching story was about Polly's eventual centering of herself, not about Polly's love life. So the more the book focused on her romance, the more I squinted while reading.
Still, I think this book was a sweet story that made me think hard about how important it is to find and engage in your passions. I'd recommend it to readers looking for a quick, happy read, so long as they have a few loaves of bread nearby.
Review in a GIF: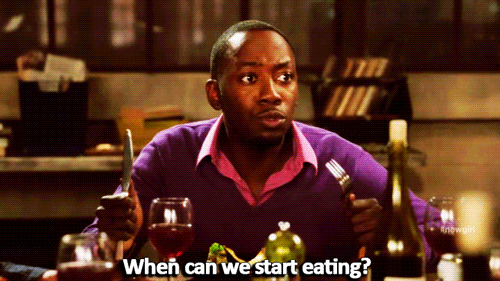 Bottom Line: This book was warm and sweet and entertaining, and made me gain 45 lbs from all the bread I craved while reading.