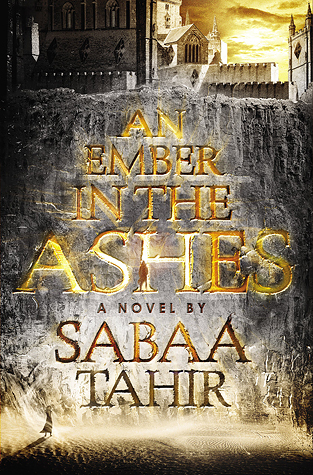 An Ember In The Ashes by Sabaa Tahir
Rating: 4.5 stars
Source: Library
Buy the Book: Amazon
Summary: "
Laia is a slave.

Elias is a soldier.

Neither is free.

Under the Martial Empire, defiance is met with death. Those who do not vow their blood and bodies to the Emperor risk the execution of their loved ones and the destruction of all they hold dear.

It is in this brutal world, inspired by ancient Rome, that Laia lives with her grandparents and older brother. The family ekes out an existence in the Empire's impoverished backstreets. They do not challenge the Empire. They've seen what happens to those who do.

But when Laia's brother is arrested for treason, Laia is forced to make a decision. In exchange for help from rebels who promise to rescue her brother, she will risk her life to spy for them from within the Empire's greatest military academy.

There, Laia meets Elias, the school's finest soldier—and secretly, its most unwilling. Elias wants only to be free of the tyranny he's being trained to enforce. He and Laia will soon realize that their destinies are intertwined—and that their choices will change the fate of the Empire itself.
"
Review: In terms of addiction, this book gets five stars. Hands down. It didn't even take the usual 30-50 pages before I was hooked. I was hooked from the very beginning to the very last page. I loved feeling so compelled to read, loved wanting so badly to find out what would happen next. If you want an all-consuming book, look no further.
That being said, I didn't love everything about this book. Sometimes I felt like people were too ruthless, too hardened. Kind of like in Red Rising. I just can't see whole populations turning that desensitized to violence and death. So I had a hard time suspending my disbelief in a few scenes. Also, this is a very patriarchal society, which is only my jam when people are fighting against it. The characters with hearts seemed to have a problem with the level of violence, but not with the treatment of the women around them. Which was annoying to say the least. Also, I had a problem with Helene's story arc. But I can't discuss that without getting spoilery, so if you want to discuss, contact me.
Just had to get that off my chest. Other than those elements, there was a lot to love about this book, particularly in the plot. The plot of this book was extremely, extremely well done. It was constantly and relentlessly building. It never floundered for a second. I was captivated the entire time, practically dying every time a chapter ended because I needed to know what would happen next.
Laia and Elias are excellent characters, equipped with their own secrets, motives, and burdens. They each felt clever and resourceful, but not too much so to be real. They are fighting their own demons, but their emotions felt raw and sincere. I have a very high radar for emotional manipulation, and I did not detect any in this story. I loved that I could never completely trust the Resistance. You'd expect them to be the good guys in this story, and they sort of are. But maybe not entirely. And that was awesome.
This is the beginning of another series. That ending, while still a solid ending, still left me wanting a lot more. So beware, if you read this now, you'll be suffering for the next year until the next book is released. To me, the suffering is worth it. This book was a blast, and I am so happy to have found it.
Review in a GIF: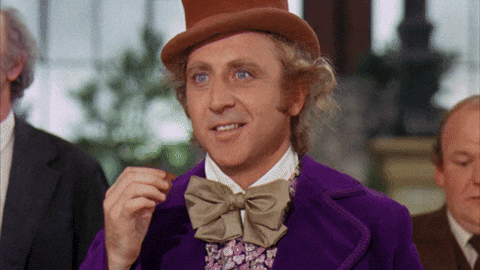 Bottom Line: A wild and thrilling fantasy adventure, featuring compelling characters living in a violent and dangerous world. This book gets an A+ for its addiction factor. Read it if you need an exciting and absorbing tale.