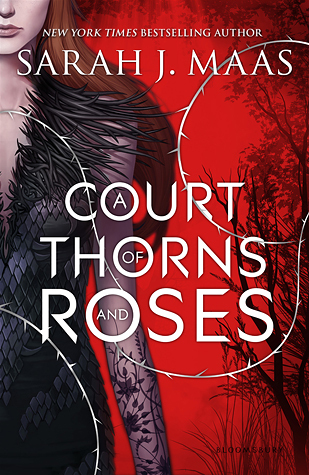 A Court of Thorns and Roses by Sarah J. Maas
Rating: 5 stars
Source: Purchased
Buy the Book: Amazon
Summary: "
A thrilling, seductive new series from New York Times bestselling author Sarah J. Maas, blending Beauty and the Beast with faerie lore.

When nineteen-year-old huntress Feyre kills a wolf in the woods, a beast-like creature arrives to demand retribution for it. Dragged to a treacherous magical land she only knows about from legends, Feyre discovers that her captor is not an animal, but Tamlin—one of the lethal, immortal faeries who once ruled their world.

As she dwells on his estate, her feelings for Tamlin transform from icy hostility into a fiery passion that burns through every lie and warning she's been told about the beautiful, dangerous world of the Fae. But an ancient, wicked shadow grows over the faerie lands, and Feyre must find a way to stop it . . . or doom Tamlin—and his world—forever.
"
Review: Guys, I'm practically speechless. This book left me feeling so drained and full at the same time. It was everything I wanted it to be, and more.
Let's start with our protagonist, Feyre. Feyre is and is not who you would imagine as your stereotypical Belle. She is determined and passionate and fiercely independent, as you might expect, but this Belle is also illiterate. So that moment when Belle walks into the Beast's library and swoons... doesn't happen. (But never fear, there are plenty of other swoonworthy scenes.) What I loved about Feyre, though, is her resourcefulness and her growth. She spends a lot of the novel needing to solve her problems on her own, with little to no help from anyone else. Oftentimes, she has only her own nerve to see her through. But she determines to find answers to her questions and solutions to her problems, never accepting defeat. She learns from her mistakes, and through her journey she becomes a wiser character. And I was cheering for her every step of the way.
Then you have Tamlin, our resident Beast, and a whole host of other characters. One thing I loved about this book (and all of Maas' books) is that every character has their own distinct personality, background, and set of behaviors. This book did not rotate perspectives, but if it did, I strongly suspect that I would have had no trouble whatsoever in deciphering whose chapter through which I was reading the story. I fell in love with Lucian. Tamlin was equal parts intimidating and powerful and intriguing. Feyre's sisters were unique. And Amarantha was completely evil. And Rhysand... I hope/expect that we get a whole lot more of him in the coming books. I have a feeling there will be mutiny if we don't.
I feel I should give a word of warning to the more risque parts of the story. This is not an erotic novel, but I imagine that there are people out there who would prefer that the story fade to black instead of letting us see exactly what's going on. In terms of sexuality, this book is probably on par with Outlander. There are some sexy scenes, and because of them and the level of violence, I wouldn't recommend it to non-adults. (But if you are an adult, LET'S TALK.)
But even though the characters were all well drawn and compelling, there's still a whole lot more to the book. I have to give props to the setting. I want to go to Tamlin's palace SO BAD. The whole land of the fey was enchanting. There's no other word for it. It's literally a magical place, full of possibility and danger. I loved feeling so stressed whenever Feyre was out in the woods, because I never knew what lurking creatures she would find. The starlight lake scene was so beautiful, I wanted to swim in it, too. I just loved this world.
AND THEN THERE'S THE PLOT. Yowza, this was quite a story in terms of plot. There were several twists I did not see coming, and everything just seemed to make the stakes higher and higher. I did not know very much about this book before reading, and I think it was good that I didn't, because I didn't get spoiled on who was good and who was bad. I didn't get spoiled on how things turned out. I was able to be surprised and whisked away as this story spun its tale. And what a tale it was. Although there are to be more books in this series, this book had its own climax and resolution. So while I will definitely read the next book in the series, it will be because I want to, not because I just need closure.
If you need a fantasy/fairy tale retelling, do consider this one. It was magical.
Review in a GIF: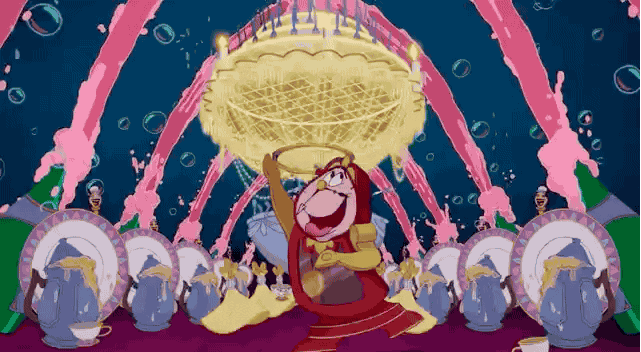 Bottom Line: This Beauty and the Beast retelling is a must for adult fairy tale fans. It has everything: suspense, action, romance, beauty, and magic. I have a feeling this won't be the last time I read this book.