Pennyroyal Academy by M.A. Larson
Rating: 3.75 stars
Source: Library
Buy the Book: Amazon
Summary: "
Pennyroyal Academy: Seeking bold, courageous youths to become tomorrow's princesses and knights….Come one, come all!
A girl from the forest arrives in a bustling kingdom with no name and no idea why she is there, only to find herself at the center of a world at war. She enlists at Pennyroyal Academy, where princesses and knights are trained to battle the two great menaces of the day: witches and dragons. There, given the name "Evie," she must endure a harsh training regimen under the steel glare of her Fairy Drillsergeant, while also navigating an entirely new world of friends and enemies. As Evie learns what it truly means to be a princess, she realizes surprising things about herself and her family, about human compassion and inhuman cruelty. And with the witch forces moving nearer, she discovers that the war between princesses and witches is much more personal than she could ever have imagined.
Set in Grimm's fairytale world, M.A. Larson's
Pennyroyal Academy
masterfully combines adventure, humor, and magical mischief."
Review: Pennyroyal Academy was a cute middle-grade novel that will delight you, though you may completely forget all about it five minutes after finishing. At least, that was my experience.
The castle setting and the presence of fairy tale characters make much of the background of this book very enchanting. It was reminiscent of The School for Good and Evil by Soman Chainani and Ever After High by Shannon Hale in that way. The dragons and witches and princesses and knights and fairies all contributed to making this whole story magical.
The characters were well done too. They were distinct and multi-dimensional, and I was rooting for several characters at once. Evie was a sweet girl, and I loved watching her blossom. There were plenty of plot twists along the way, even though a few were predictable. It kept my attention, and after finishing I resolved to pick up the next book in the series once it comes out.
All that being said, it's been a couple of weeks since I finished and I can think of almost nothing else to say about this book. I don't think it has crossed my mind since finishing even once.
So while it entertained me, it was pretty forgettable. I'm not sorry I read it, because I had a good time. But I think I would have liked this book a lot more as a ten-year-old than I do as an adult. I would recommend this to kids/teens, or to read out loud to pre-teens. I probably wouldn't recommend this to adults to read on their own, though.
Review in a GIF: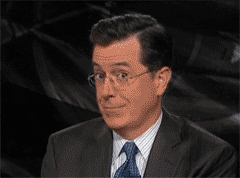 Bottom Line: A sweet, if somewhat predictable middle-grade fantasy. I'd recommend it to pre-teens and teenagers without hesitation, though.