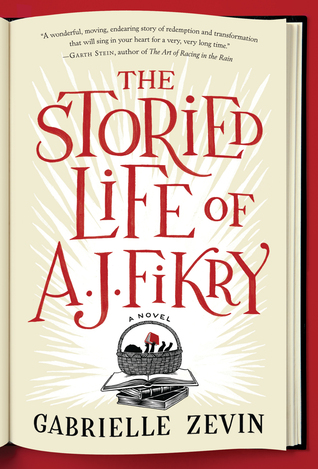 The Storied Life of A.J. Fikry by Gabrielle Zevin
Rating: 4.5 stars
Source: Library
Buy the Book: Amazon
Summary: "
On the faded Island Books sign hanging over the porch of the Victorian cottage is the motto "No Man Is an Island; Every Book Is a World." A. J. Fikry, the irascible owner, is about to discover just what that truly means.

A. J. Fikry's life is not at all what he expected it to be. His wife has died, his bookstore is experiencing the worst sales in its history, and now his prized possession, a rare collection of Poe poems, has been stolen. Slowly but surely, he is isolating himself from all the people of Alice Island-from Lambiase, the well-intentioned police officer who's always felt kindly toward Fikry; from Ismay, his sister-in-law who is hell-bent on saving him from his dreary self; from Amelia, the lovely and idealistic (if eccentric) Knightley Press sales rep who keeps on taking the ferry over to Alice Island, refusing to be deterred by A.J.'s bad attitude. Even the books in his store have stopped holding pleasure for him. These days, A.J. can only see them as a sign of a world that is changing too rapidly.

And then a mysterious package appears at the bookstore. It's a small package, but large in weight. It's that unexpected arrival that gives A. J. Fikry the opportunity to make his life over, the ability to see everything anew. It doesn't take long for the locals to notice the change overcoming A.J.; or for that determined sales rep, Amelia, to see her curmudgeonly client in a new light; or for the wisdom of all those books to become again the lifeblood of A.J.'s world; or for everything to twist again into a version of his life that he didn't see coming. As surprising as it is moving, The Storied Life of A. J. Fikry is an unforgettable tale of transformation and second chances, an irresistible affirmation of why we read, and why we love."
Review: I am highly skeptical of books that claim to be "for book lovers." That kind of marketing is kind of like putting a sign in the produce aisle of the grocery store stating "THIS SECTION IS GOOD FOR FRUIT AND VEGETABLE LOVERS." It's just so glaringly obvious. That they thought saying "this book is for book lovers" was the best thing they could say about it immediately made me hesitate. So I probably wouldn't have read this book at all if a friend hadn't recommended it to me so highly.
So now I've read it, and I am here to tell you:
This book is definitely for book lovers.
And it is lovely.
The cast is filled with people who love the written word, and who devote much of their lives to reading. They relate to the world around them through short stories. They talk about books together, and make judgments about other people based on the books they read. They can be snobby. They can be romantic. They are rarely bored. As someone who loves to read, and has spent a large quantity of life doing so, I related A LOT to these characters. (Actually, I think I might be a reincarnated A.J. himself. We're basically the same person. Except he lives on an island and owns a bookshop. Lucky jerk.)
It really isn't an adventurous story. But it is every bit as heartbreaking, as funny, and as clever as other books I've read. The book focused just a tad more on the romance than I wanted it to, but that's just me being the curmudgeon I am. It was still a delightful read. This book is like a warm blanket, and I loved cuddling into it. Highly recommended!
Review in a GIF:
Bottom Line: This book is so warm and funny and heartbreaking and witty... you will have a blast reading and be sorry when it ends.