Big Little Lies by Liane Moriarty
Rating: 4.25 stars
Source: Library
Buy the Book: Amazon
Summary: "Sometimes it's the little lies that turn out to be the most lethal. . . .
A murder… . . . a tragic accident… . . . or just parents behaving badly?
What's indisputable is that someone is dead. But who did what?
Big Little Lies
follows three women, each at a crossroads: Madeline is a force to be reckoned with. She's funny and biting, passionate, she remembers everything and forgives no one. Her ex-husband and his yogi new wife have moved into her beloved beachside community, and their daughter is in the same kindergarten class as Madeline's youngest (
how
is this possible?). And to top it all off, Madeline's teenage daughter seems to be choosing Madeline's ex-husband over her. (How. Is. This. Possible?).
Celeste is the kind of beautiful woman who makes the world stop and stare. While she may seem a bit flustered at times, who wouldn't be, with those rambunctious twin boys? Now that the boys are starting school, Celeste and her husband look set to become the king and queen of the school parent body. But royalty often comes at a price, and Celeste is grappling with how much more she is willing to pay.
New to town, single mom Jane is so young that another mother mistakes her for the nanny. Jane is sad beyond her years and harbors secret doubts about her son. But why? While Madeline and Celeste soon take Jane under their wing, none of them realizes how the arrival of Jane and her inscrutable little boy will affect them all.
Big Little Lies
is a brilliant take on ex-husbands and second wives, mothers and daughters, schoolyard scandal, and the dangerous little lies we tell ourselves just to survive."

Review: I have put off writing this review for ages, because there's just SO MUCH to talk about. This book was immensely enjoyable. It alternated between laugh-out-loud funny and deeply profound. I found myself uncomfortable, infuriated, sympathetic, charmed, and, ultimately, grateful that I had read it.
I feel like this book is, as the title suggests, both big and little. Superficially, it deals with the day-to-day lives of three very different women in a small town. But, really, this book is about the town itself, the faces we wear, and how reality differs from those façades. It reminded me a lot of Rowling's A Casual Vacancy with all the revelations of less-than-ideal circumstances among the town's tenants, but with less language. Also, a lot funnier. And strangely more hopeful, despite the fact that someone dies in the end. (Not a spoiler, you're told that in the opening pages.) Though the two books deal with many similar subjects, this one swallows much easier.
My favorite aspect was the mystery involved. You know someone dies, but you don't know who. So the whole time you're debating who got killed and who their killer was. I loved that I had no clue up until that pivotal scene how it would shake out. This was a different kind of mystery then I usually read, much more character driven than plot driven. But it still worked. The mystery definitely gets an A+.
While I love this book, I do have to admit that it kind of overwhelmed me. There were so many issues it talked about. So many problems and challenges. No joke, ALL of these things are brought up and heavily discussed:
Bullying

Co-parenting with an ex-spouse

Stepparent/stepchild relationships

Stay-at-home moms vs. working moms

Domestic abuse

Helicopter parenting vs. Slacker parenting

Marital fidelity

The judgements single parents face

Gossip

Lying to the police

Murder

I repeat, MURDER (!!!)
Like I said, there is a lot to talk about. And this book could easily have fallen flat on its face for biting off so much. But, somehow, Moriarty pulls it off. Because of that this book would be an excellent pick for a book club. (With all those hot topics, there would certainly never be a dull moment.)
My biggest takeaway was how harmful gossip can be, and how important it is to be kind to those around us. You don't always know the motives behind others' actions. You don't know what secret battles others are fighting. Don't add to their burden. Be gentle. Be kind. Give a courtesy laugh. Pay for someone else's lunch. Simple kindnesses do much to make the world a better place. It's worth it to be nice.
Review in a GIF: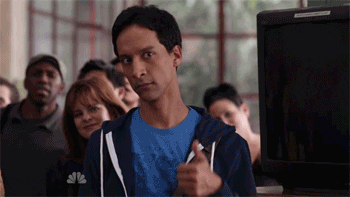 Bottom Line: This book would be an excellent book club pick. It's funny, deep, tackles many, many important issues, and it feels like it's half as long as it is.