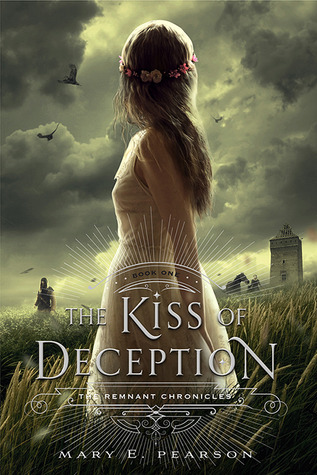 The Kiss of Deception (The Remnant Chronicles #1) by Mary E. Pearson
Rating: 4.75 stars
Source: Library
Buy the Book: Amazon
Summary: "
A princess must find her place in a reborn world.
She flees on her wedding day.
She steals ancient documents from the Chancellor's secret collection.
She is pursued by bounty hunters sent by her own father.
She is Princess Lia, seventeen, First Daughter of the House of Morrighan.
The Kingdom of Morrighan is steeped in tradition and the stories of a bygone world, but some traditions Lia can't abide. Like having to marry someone she's never met to secure a political alliance.
Fed up and ready for a new life, Lia flees to a distant village on the morning of her wedding. She settles in among the common folk, intrigued when two mysterious and handsome strangers arrive—and unaware that one is the jilted prince and the other an assassin sent to kill her. Deceptions swirl and Lia finds herself on the brink of unlocking perilous secrets—secrets that may unravel her world—even as she feels herself falling in love."
Review: Let's get one thing clear: that summary does not sell this book the way it should.
The beginning of this book makes you think you're reading a story about a runaway princess' triumphs and failures until she finds herself happy at last.
That would be false.
Don't get me wrong, this is definitely Lia's story. And she has plenty of triumphs and failures along the way. But this story is bigger than Lia. This is the story of an entire world: the kingdoms, rivalries, histories, villains, heroes, magic, and individuals among them.
The best part about this story is how much you will care. You will read from multiple perspectives, and grow empathetic to them all. You will want all of them to succeed, and be a mess of nerves the whole time you are reading because you know they can't.
I was impressed with Pearson's ability to bring each setting in her novel to life. Whether we were in the castle, a small fishing village, in the woods, or across the desert, I felt each distinct place as if I were there alongside Lia.
Some people say that there is a love triangle. I sort of agree... but it's more of an isosceles triangle. All three characters involved meet at the same time, and while she cares for both men involved, Lia clearly prefers one over the other. She doesn't dally between the two, unsure of her feelings. She develops a friendship with both, and clearly finds both men attractive, but she only really wants one of them. Because of that, this "love triangle" wasn't insufferable. Nor was it technically a love triangle, in my book.
That being said, if it becomes more of an equilateral triangle in the next book, I will be ticked.
You may have heard that there is a twist partway through this novel. I'd actually say that there are two twists - and I guessed both of them ahead of time. But even though I guessed, it was still shocking to learn I was right. And after the initial twist, the book went from solidly good to truly spectacular. The revelations, the intrigue, the danger, the plots and schemes... all of it layered together to make a really, really great book. The more I read, the more I loved this story. And when it ended, I nearly sobbed when I saw that book two isn't going to be released until JULY 2015.
I would trade a year's worth of chocolate to get my hands on that next book. Which, if you know me, is really saying something.
Review in a GIF:
Bottom Line: This book was really, really spectacular. The more I read, the more engrossed I became. It's a tale of magic, intrigue, and adventure that you won't want to miss... though I would wait until the next two books are released before you start reading so that you aren't trapped in a mausoleum of anxiety waiting between books like I am. *twitches*