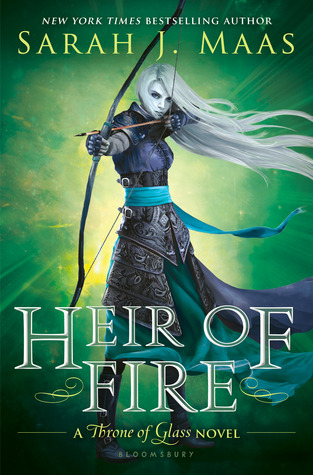 Heir of Fire (Throne of Glass #3) by Sarah J. Maas
Rating: 4.75 stars
Source: Library
Buy the Book: Amazon
Summary: "

Lost and broken, Celaena Sardothien's only thought is to avenge the savage death of her dearest friend: as the King of Adarlan's Assassin, she is bound to serve this tyrant, but he will pay for what he did. Any hope Celaena has of destroying the king lies in answers to be found in Wendlyn. Sacrificing his future, Chaol, the Captain of the King's Guard, has sent Celaena there to protect her, but her darkest demons lay in that same place. If she can overcome them, she will be Adarlan's biggest threat – and his own toughest enemy.
While Celaena learns of her true destiny, and the eyes of Erilea are on Wendlyn, a brutal and beastly force is preparing to take to the skies. Will Celaena find the strength not only to win her own battles, but to fight a war that could pit her loyalties to her own people against those she has grown to love?"
Review: GAH. How can I even do this book justice?
I will attempt to illustrate why I love this book - and this series - so much, but I'm not sure anything I say will convey the depth of my adoration for this series. *Breaths deeply*
Celaena. Oh, Celaena. What I love about Celaena is that she is so difficult to describe. She is at once tough, hardened, angry, petrified, loyal, sarcastic, passionate, beautiful, willful, dejected, skeptical, and hopeful. She is hard and soft, both vulnerable and unapproachable, winning enemies and allies to her cause with her temper and her dedication. She feels like a whole person. And I adore her.
This story is split in three ways: it tells Celaena's story across the sea, it tells the story of those she left in the glass palace, and it introduces a third perspective: a witch called Manon Blackbeak.
Celaena's chapters were filled with growth, both within Celaena, and within the story as a whole, as we learn of events in Celaena's history that fill in the gaps within this world's past. We are also introduced to a new character named Rowan, who just might be my favorite ToG character to date. *fans self*
The chapters in the glass palace were SO INTENSE. Bad stuff is happening there, and as a reader, I felt like it was just a matter of time before one of the major characters took a hit. And when it happened, OMG I WANTED TO DIE. The King of Adarlan is a Really Bad Dude. I am going to need to up my anxiety meds in order to cope with life until Book 4 is released.
And then there's Manon. Considering that her story felt pretty detached from the other two, I was surprised with how interested I was. I kept waiting for her storyline to connect to the others in a more direct way. Though it didn't in this book, I'm certain it will in the future. I'm convinced that Manon has a heart, no matter how fiercely she denies it. Also, Ms. Maas can write one heck of a wyvern attack scene.
These books just keep building on top of one another. You will not be able to read this book without reading the other two - you just won't understand what's going on. The plot is complicated and the stakes are high - people get hurt and die and you will want to tear your own heart own to stop it from breaking, but all of that is just a sign of a really, really great book. I loved reading it, and am already counting down until book 4 is released. (Hopefully my heart survives another Maas book!)
Review in a GIF:
Bottom Line: This series gets better and better with each installment. The action, the scheming, the magic, the characters, the gauntlet being THROWN THE HECK DOWN... At the end of this book I was a frayed disaster from FEELS OVERLOAD but IT WAS WORTH IT. GIVE ME BOOK 4 IMMEDIATELY.