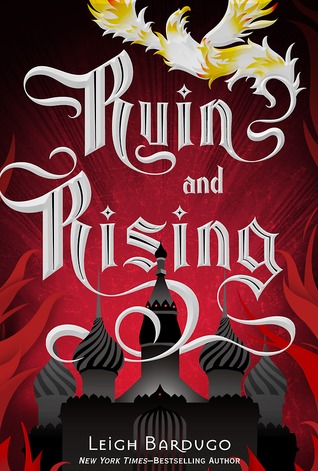 Ruin and Rising by Leigh Bardugo
Rating: 4.75 stars
Source: Purchased
Buy the Book: Amazon
Summary: "
The capital has fallen.
The Darkling rules Ravka from his shadow throne.
Now the nation's fate rests with a broken Sun Summoner, a disgraced tracker, and the shattered remnants of a once-great magical army.
Deep in an ancient network of tunnels and caverns, a weakened Alina must submit to the dubious protection of the Apparat and the zealots who worship her as a Saint. Yet her plans lie elsewhere, with the hunt for the elusive firebird and the hope that an outlaw prince still survives.
Alina will have to forge new alliances and put aside old rivalries as she and Mal race to find the last of Morozova's amplifiers. But as she begins to unravel the Darkling's secrets, she reveals a past that will forever alter her understanding of the bond they share and the power she wields. The firebird is the one thing that stands between Ravka and destruction—and claiming it could cost Alina the very future she's fighting for."
Review: I loved this whole series so hard, I'm having trouble forming coherent sentences.
Ravka is such an interesting and captivating world. The Russian influences make Ravka familiar, while the mystical powers make it foreign. Together, they make Ravka a dangerous and captivating land in which I had so much bloody fun I can hardly stand it.
It's a tribute to Bardugo's characterization that I was rooting for every single person in this book, both the good guys and the bad guys. Alina was strong and nuanced; Sturmhond was funny and cunning; the Darkling was greedy and ruthless and somehow likable; Genya, Baghra, David... the list goes on. I loved them all for different reasons, and knowing they wouldn't all get out of this story alive filled me with dread. (The good kind of dread, when you know the reason for it is because you're reading a really, really good book.)
The only person I didn't LOVE with all caps was Mal. He felt a little too Peeta Melark-ish to me, and I don't dig the self-sacrificing lamb thing. However, I liked him more in this book than I did in either of the previous two books, and I really liked how he became just as strong of a fighter as the Grisha, even though he didn't have their cool powers. Props, fellow regular human.
And, OH MY GOSH, CAN WE PLEASE TALK ABOUT THE STURMHOND CHARACTER ARC??!?!? Every time Sturmhond was on the page was my favorite moment of the story. He is by far one of my all time favorite characters I've read this year - maybe ever - and what happened to him ripped my feels into a bajillion pieces. Sturmhond should be the next Prime Minister, people. Seriously.
Some of what I thought was going to happen in this story really did happen, but much of it was a complete surprise. I love being surprised. This story was a wild and exciting adventure, but it was also about greed, desire, ambition, love, identity, and belonging. In addition to all that, I think that a
t its heart this book was about choice. Alina and the Darkling really could have been "soulmates," but their choices made that impossible. And, as Alina and the Darkling's story can attest, aren't we all defined by our choices?
I knocked off a quarter of a star because I wished that the Apparat and company had come into stronger play towards the end, and I also spent a good chunk of the novel trying to remember what the different terms meant. (Squallers do what exactly again?) I wish I had read the Wikipedia entries of Shadow and Bone and Siege and Storm before jumping into this one, because there wasn't much in terms of a refresher. I also wish a little more attention had been given to certain characters' apparent immortality. I'm not sure I or they understood the ramifications of that. But these quips are minor, and only slightly detracted from my otherwise really positive reading experience.
In conclusion, I give a major tip of the hat to Leigh Bardugo for this book, and will probably be sending her a very large box of chocolate chip cookies in the near future, as thanks for writing this fulfilling, gripping, spectacular series.
Bottom Line: So, so good! A fabulous ending to a fabulous series. Fantasy fans, you have GOT to read this one.