The Red Queen by Victoria Aveyard is the first of a planned trilogy, and isn't scheduled to be released until March 2015, which makes this movie news even more exciting. Here's what I learned from Big Books, Tiny Voices:
The Red Queen

: And here we have yet another YA series to get scooped up before the book is even released.

The Red Queen

, by

22 year-old

debut author Victoria Aveyard, is the first book in an upcoming trilogy that has been sold in 16 languages, but won't be released until sometime in 2015.

Universal has so much faith

in the series that they went ahead and optioned the film rights and have

Breaking Bad

writer Gennifer Hutchinson on board to pen the script. The series

was pitched

as

Graceling

meets

The Selection,

as well as

Divergent

meets

Game of Thrones.

It takes place in a fantasy world where all citizens are divided by the color of blood. The story follows a 17 year old girl who must pretend to be a long lost princess, in order to save her family and perhaps save the world. I am intrigued.
The cover attached to this blurb (top) is lovely, but the cover attached to the book on Goodreads is even more captivating (bottom). You may not have heard of this book yet, since, hey, it's not coming out for seven-and-a-half months. But in case you want to know more, the Goodreads summary is below. I'm really excited for this one!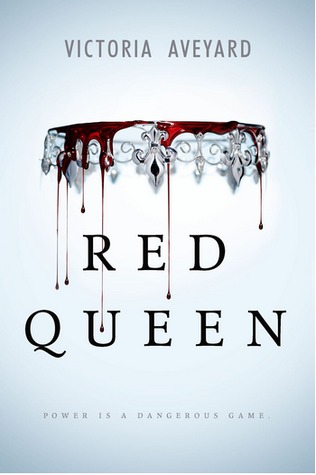 "
Mare Barrow's world is divided by blood—those with red and those with silver. Mare and her family are lowly Reds, destined to serve the Silver elite whose supernatural abilities make them nearly gods. Mare steals what she can to help her family survive, but when her best friend is conscripted into the army she gambles everything to win his freedom. A twist of fate leads her to the royal palace itself, where, in front of the king and all his nobles, she discovers a power of her own—an ability she didn't know she had. Except . . . her blood is Red.
To hide this impossibility, the king forces her into the role of a lost Silver princess and betroths her to one of his own sons. As Mare is drawn further into the Silver world, she risks her new position to aid the Scarlet Guard—the leaders of a Red rebellion. Her actions put into motion a deadly and violent dance, pitting prince against prince—and Mare against her own heart.
From debut author Victoria Aveyard comes a lush, vivid fantasy series where loyalty and desire can tear you apart and the only certainty is betrayal."
Political intrigue? Daring protagonist? Supernatural powers? Simmering rebellion?