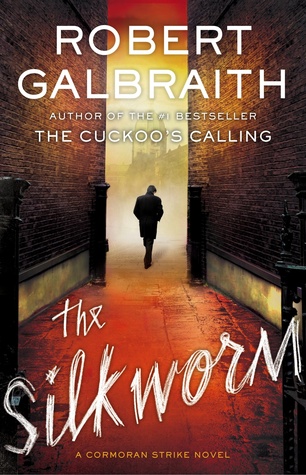 The Silkworm by Robert Galbraith
Rating: 4 stars
Source: Purchased, because I will buy anything Rowling writes
Buy the Book: Amazon
Summary: "
When novelist Owen Quine goes missing, his wife calls in private detective Cormoran Strike. At first, Mrs. Quine just thinks her husband has gone off by himself for a few days--as he has done before--and she wants Strike to find him and bring him home.
But as Strike investigates, it becomes clear that there is more to Quine's disappearance than his wife realizes. The novelist has just completed a manuscript featuring poisonous pen-portraits of almost everyone he knows. If the novel were to be published, it would ruin lives--meaning that there are a lot of people who might want him silenced.
When Quine is found brutally murdered under bizarre circumstances, it becomes a race against time to understand the motivation of a ruthless killer, a killer unlike any Strike has encountered before...
A compulsively readable crime novel with twists at every turn, THE SILKWORM is the second in the highly acclaimed series featuring Cormoran Strike and his determined young assistant, Robin Ellacott."
Review: I had two extremely disparate reactions to this novel: awe and admiration at Galbraith's plotting, and disappointment at Galbraith's characters.
First, the plot. It was Amazing. Incredible. Phenomenal. And all sorts of other positive adjectives. I closed the last page and immediately suffered from a massive book hangover. I honestly didn't pick up another book for days afterwards, because I had to come to terms with the fact that none of the next fifty books I read would have a plot this carefully and precisely written.
Having a tightly written plot is always important, but especially so in mysteries. You shouldn't be able to predict the outcome, but, once you come to the grand reveal, you shouldn't be surprised either. It's a difficult thing to accomplish, but Galbraith walks that line fantastically well.
Which kind of makes the disappointing characterization even more of a let down. Usually when characterization isn't done very well you can tell because all the characters will sound the same. That is not the case here. Each character was distinct and unique. I had no trouble telling the characters apart. The trouble for me was that, among the diverse cast in this book, I wasn't really rooting for anyone.
Cormoran Strike is a brilliant detective. He is also selfish and manipulative, and is only nice to other people if he thinks he can personally benefit from being nice to them. I didn't really like being in his head all that much, when he wasn't putting puzzle pieces together. I had similar reactions to the other characters. I understand that everyone has negative personality traits in real life, but they all just seemed to have so many of them. (Maybe because we're seeing them through Strike's eyes, who has a pretty poor view on humanity? Hmm.) The amount of bad in these characters far outweighed the good, and it made it hard to root for any of them. (Except for Robin. I was rooting for her, and hope that she has more and more page time as this series advances.)
So, when I came to the grand reveal, I was both stunned at the plotting that brought me to that point, and let down because I didn't really care. If any of those characters had killed Quine I would have had the same reaction. I wanted to gasp and cry, "THEM?!? THEY DID IT?!???!" But instead I was more hoping that Strike would just lock everybody up for being selfish jerks.
If the plot was great but the characterization was poor in a romance novel, I would have given this book a much lower rating. But, seeing as this is a mystery, I awarded that incredible plot with four stars. I enthusiastically recommend this to mystery lovers. (Though not to romance lovers.)
Bottom Line: Fans of crime novels are sure to love this mystery, though it may be difficult to find someone to cheer for. Also, readers sensitive to language should be aware that the language in this book is strong and frequent.