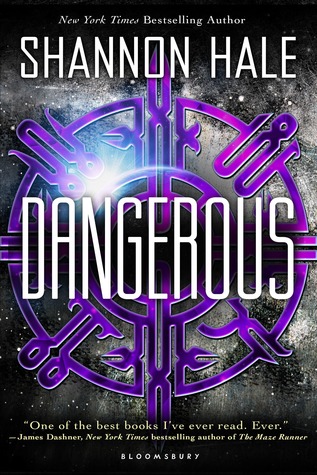 Dangerous by Shannon Hale
Rating: 4.25 stars
Source: Library
Buy the Book: Amazon
Summary: "
Maisie Danger Brown just wanted to get away from home for a bit, see something new. She never intended to fall in love. And she never imagined stumbling into a frightening plot that kills her friends and just might kill her, too. A plot that is already changing life on Earth as we know it. There's no going back. She is the only thing standing between danger and annihilation.
From NY Times bestselling author Shannon Hale comes a novel that asks, How far would you go to save the ones you love? And how far would you go to save everyone else?"
Review: I've read quite a bit of Shannon Hale's work, so the warmth and wit in this book felt happily familiar. The sci-fi setting worried me, though. Sci-fi isn't usually my favorite genre, so I wasn't sure what to expect. I am happy to report, however, that Hale won me over with this story, and I enjoyed every page of it.
Maisie is a delightful protagonist. She is level-headed and clever and kind. I was extremely happy with the way Hale treated her one-armed-ness. It's a part of who she is, and comes into play at certain moments in time, but it does not define her. Maisie could have easily turned into a stereotype, but she's not, and her story reflects that. Having one arm is such a small part of Maisie's identity that I almost forgot about it a few times. It just wasn't all that relevant a lot of the time.
The story was surprising. It was different than much of what I've read lately, and I enjoyed being surprised. I couldn't predict what would happen next, and I LOVE when that happens. The science was impressive without being over-the-top. The plot was intense and unpredictable without being random. There was one moment when I honestly had no idea who were the good guys and who were the bad guys. That was the moment when I muttered under my breath, "I LOVE THIS BOOK." It was complicated and gripping and thrilling and heartbreaking and just really, really good.
All of this is to say that the sooner you drop the idea that this book is about a one-armed-girl who goes to astronaut camp, the better. Maisie is much more than a one-armed-girl, and this story is much more complex than kids going to an astronaut camp. If you go in open minded and without expectations, this book is likely to sweep you up in adventure, adrenaline, suspense, and excitement. If you do go in with Expectations, well, you'll probably just be confused.
Bottom Line: A great addition to Hale's novels! The sci-fi is different, but it was fun to get something new-tasting from an author with whom I'm already familiar.