Top Ten All Time Favorite Books in X Genre (you pick the genre)
I decided to go crazy and pick a genre that I don't read all that much from. (I know, it's wild here at Bookmark Dragon. We live on the edge around here.) I don't read a lot of Science Fiction, preferring dragons to aliens, personally. But I have read a few really smashing SciFi books. Looking over these titles, I think most people will have read them too, or at least heard of them. To those who love SciFi, am I missing any SciFi staples in my
repertoire
?? Anyway, here's my top ten Science Fiction books:
9. The Host by Stephenie Meyer
Not my favorite book, and definitely not my favorite movie, but I thought it was original and weirdly cool how compassionate the aliens thought they were, despite the fact that they were bent on DESTROYING THE HUMAN RACE.
Wells' straightforward and methodical telling of this alien invasion was chilling in an unsuspecting sort of way.
She had me at 'Cyborg Cinderella.'
6. Jurassic Park by Michael Crichton
I'm not totally sure this is technically a SciFi book. It was awesome, regardless. One of those rare stories that is equally awesome in both the print and the film medium.
2. 1984 by George Orwell
And a little more. What can I say, when the fame is well deserved, it's well deserved.
1. Ender's Game by Orson Scott Card
The big daddy of them all. This book is totally rad.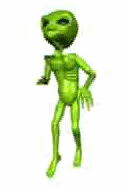 All hail the alien.
What are your favorite SciFi reads??